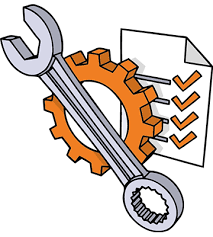 Before failure occurs!
Improved operation with inspections…
Take advantage of the experience of our technicians to plan your maintenance schedule efficiently, optimize storage and to keep your machine operating efficiently.
Communication is important and therefore you will receive current information, suggestions and recommendations that will help resolve your problems.
The innovations and developments go further; use our experience, keep yourself informed and encourage us to develop new solutions.
Our inspection terms are economical. Ask for our offers in this area and take advantage of this service!
Here are five reasons your machine deserves the protection of Bergami:
Ensures safe operation
Reduces internal maintenance costs
Extends the life of your equipment
Optimizes production performance
Minimizes downtime
For maintenance contracts contact the service department.
After-Sales Service Manager
Phone: +39 051 875816
Fax: +39 051 875824
Email: info@bergamisrl.com
Email : service@bergamisrl.com