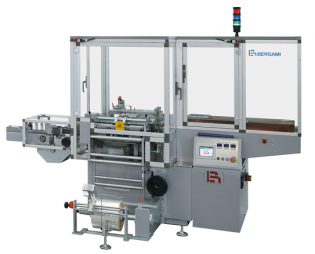 The CP150 is a medium/high speed overwrapping machine suitable to handle cartons with glossy finish. It has been specifically designed to satisfy the requirements for high quality overwrapping typical within the cosmetic industry. It can, however, also be used for any other overwrapping application.
The cantilever design structure allows easy access to the working area and makes it simple to maintain. The machine can run heat sealable plastic films such as polypropylene, PVC or cellophane fed from a reel. To achieve high speeds, the film feeding system is positioned at a right angle to the product flow and is performed by positive toothed vacuum belts. The cartons are taken through the side film folding plates and the reciprocating dot sealers or lateral sealing belts according to the requirements.
As dictated by the most modern technology, the machine is equipped with servo-controlled motors. As a matter of fact the entire film feeding and positioning system together with the devices to control the carton during the transversal sealing operation are driven by servo-motors which means dedicated strokes and motion profiles for each support. What makes the CP150 totally unique on the market is the possibility that it can run automatically switch from one film reel to another without stopping the machine. While the machine is running, the operator can place the new film reel on the second spindle and the film run out detector triggers the system to carry out the automatic splicing of the film (option). Another very interesting optional item is a fully electronic system available where all adjustments are driven by servo-motors and size data is stored into the memory of the machine thereby requiring a very minimum human intervention.
Excellent packaging quality
Highly reliable combination of cam and Servo driven technology
External side loading film reel
Ergonomic mounted shaft with quick expansion lock device to allow a fast change of the film reel
Discharge by sealing plates
Centered product stop within the sealers to obtain even a point seal in the same position on all packages
Simple and fast carton size changeover
Flexible size range
The touch screen operator interface control panel shows all the machine functions and displays the machine status, as well as fault/alarm messages
The speed is set from the control panel and allows the adjustment for the optimal production speed