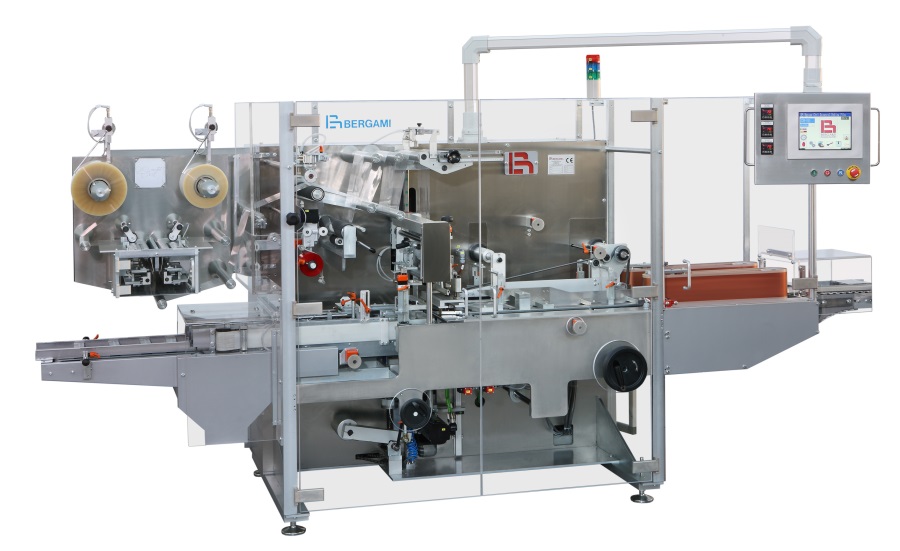 The CX5 machine is a single overwrapping machine suitable to handle cosmetic cartons with glossy finish at medium speeds. The machine has been specifically designed to satisfy the requirements for high quality overwrapping typical within the cosmetic industry, it can, however, also be used for any other overwrapping application.
The sealing of the cross film overlap is made on the back edge of carton to keep the main faces totally free of marks or wrinkles. The machine can run heat-sealable plastic films such as polypropylene, PVC or cellophane fed from a reel. To achieve an unsurpassed aesthetic quality of the overwrap, the film feeding is performed by positive servodriven grippers.
The balcony-type construction of the CX5 allows maximum accessibility to all its main parts in order to optimize maintenance and cleaning operations.
Size changes can be completed in approximately 8 minutes with a minimum use of tools and with all the adjustments being made with the assistance of digital indicators.
Excellent packaging quality;
Dedicated treatments for the Cosmetic Industry (Teflon®, polish, chromium plating and felt conveyor belts);
Highly reliable Servo driven technology;
Positive unwinding of wrapping material from the roll placed vertically in reference to the product flow direction;
Ergonomic mounted shaft with quick expansion lock device to allow a fast change of the film reel;
Discharge by sealing plates;
Centered product stop within the sealers to obtain even a point seal in the same position on all packages
Simple and fast carton size changeover;
Flexible size Range;
Low-cost change-parts
The touch screen operator interface control panel shows all the machine functions and displays the machine status, as well as fault/alarm messages;
The speed is set from the control panel and allows the adjustment for the optimal production speed