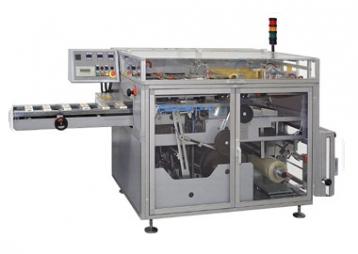 The CM25 is a versatile robustly constructed, fully-automatic, overwrapping machine for larger-sized single packs and for high-speed bundling. Because of its robustness, this machine is particularly suitable for multi-shift operation. The products can be wrapped either with heat-sealable materials from reel of coated polypropylene, cellophane, PVC and others.
Designed around three concepts: versatility, ergonomics and maximum efficiency because of its flexibility and easy operation, the CM25 is one of the best known overwrapping machines in the packaging industry.
The film feeding by means of positive grippers allows the use of difficult and thin films and by stopping the film over the product guarantees an unsurpassed aesthetic quality of the overwrap.
Excellent packaging quality
Highly reliable cam driven technology
Positive unwinding of wrapping material from the roll placed in-line in reference to the product flow direction;
Discharge by sealing plates;
Quick and Easy size changeover with a minimum use of tools;
Flexible size Range;
Low-cost change-parts
Easy Operation and Maintenance
The touch screen operator interface control panel shows all the machine functions and displays the machine status, as well as fault/alarm messages;
The speed is set from the control panel and allows the adjustment for the optimal production speed