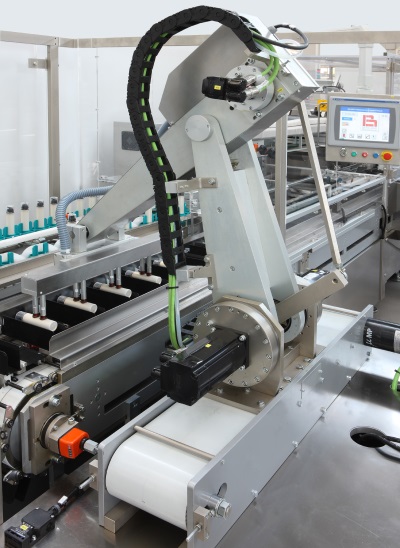 Bergami raises the bar on constant motion cartoning with the announcement of their fully integrated constant motion servo control system for the automatic loading of bottles, vials, syringes, jars, tottles, flow-packs, trays, products in and without pucks and much more.
Our 4 axis Pick and Place system Model Brutus, controlled by four servomotors, takes simplification of format changes to a new level with full recipe retention and programming entirely through the touch display. Set up for a new product is within a fixed parameter area in the HMI and takes just minutes to generate a program for a new format. In normal operation the pick and place moves back and forth in synchronization with the product arriving in constant motion and then also with the loading of the buckets on the cartoner for seamless and gentle handling of products. With a wide range of end effectors and a maximum pick speed of over 55 cycles per minute. The Bergami integrated servo loading system is a simple, smart and cost effective alternative to 3rd party robotics integration.
Pick and Place systems can work together as a team and mutually pursue the objective of guaranteeing packages which have been filled completely.