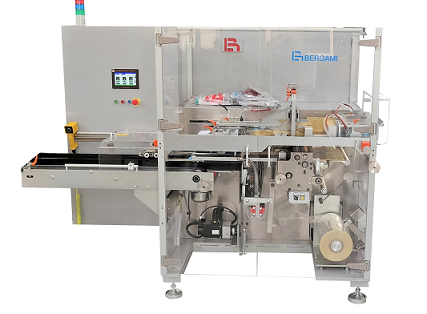 This machine specifically designed for the cosmetic market meets the request of reduced overall dimension, accessibility and a very easy size changeover procedure guided from the HMI. It is possibile to automatically wrap cartons, trays, bundles and other parallelepiped products with heat sealable materials from reel of cellophane, pp, pvc, etc.
The CM80 is produced exclusively with servodriven movements to guarantee reduced maintenance, maximum performance and unbeatable wrapping quality.
The machine is equipped with PLC as standard and the following main groups:
Electronic system, noise level and operator's guard according to European standard
Film unwinding by means of servodriven vacuum belts to move the film under the cutting rotary knife3
Innovative film transport system designed to allow the use of difficult and thin films
Lateral folding box with second and third fixed folders
Lateral reciprocating heat sealing plates
Centralized adjustments equipped with digital indicators for size changeover
Reel holder with quick release and fixed stop to facilitate the reel replacement
The top qualities of the CM80 are:
Excellent packaging quality;
Entry level machine, competitively priced;
Highly reliable cam driven technology;
Positive unwinding of wrapping material from the roll placed in-line in reference to the product flow direction;
Discharge by sealing plates;
Quick and Easy size changeover with a minimum use of tools;
Flexible size Range;
Low-cost change-parts;
The touch screen operator interface control panel shows all the machine functions and displays the machine status, as well as fault/alarm messages;
The speed is set from the control panel and allows the adjustment for the optimal production speed.