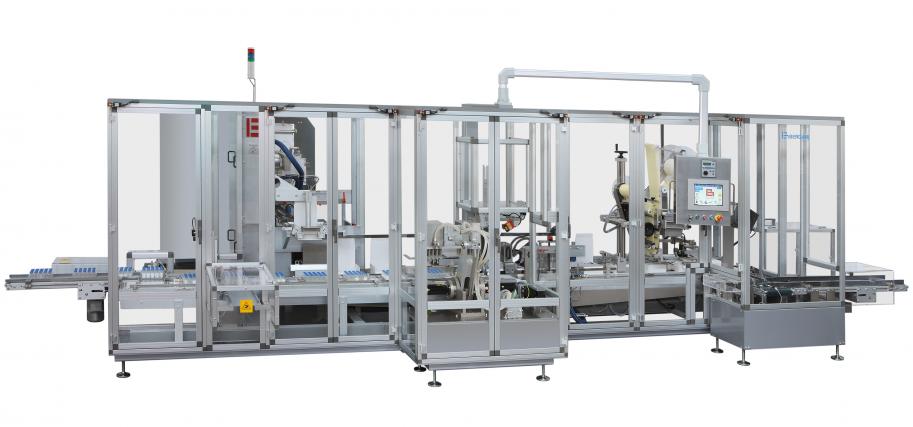 Top Loading High-speed forming and filling display box machine FA 100 stands for versatility and can be used for a variety of products and carton types. Food, pharmaceutical, consumer, confectionery or tobacco products can all be reliably packed into a carton/tray/display.
Designed with double carton magazine to increase blanks capacity and equipped with a double forming head with positive display management.
The manipulation of product collation and their insertion into a carton can be achieved with Top Loading or Side Loading capability, starting from a flat blank that is picked-up from a magazine, filling it with the product(s) and, as a final step, closing it in one of the various options, depending on the packaging style needed.
Monobloc with balcony construction fully compliant with GMP standards;
Clear and easy to access to the machine with outstanding operating simplicity;
All feeding units located in ergonomic positions;
Products infeed either on continuous conveyor belt or with a racetrack;
Trouble-free alignment of blanks
Blanks are formed in the hopper thus guaranteeing perfect carton gluing regardless of product consistency;
Carton Transport system with toothed belt system centrally adjustable and equipped with digital indicators ("A" and "B" dimensions);
Product arriving from the feeding unit is Top Loaded or Side Loaded according to the machine configuration selected
Tray packer and wrap-around cartoner with lid closing obtainable on the same machine
The touch screen operator interface control panel shows all the machine functions and displays the machine status, as well as fault/alarm messages
Self-diagnosis function
Help Function to quickly and easily reset any faults